One of the biggest complaints I hear in the winter is the issue of dry skin! But fear not — there are some really excellent solutions out there to help combat the dryness and feel as hydrated as you do in the summer (minus the humidity!). Dry skin can benefit from exfoliation, omega-3s in your diet, satin or silk pillowcase, slightly cooler water temps when you bathe, humidifiers and mists, a shower filter, and a solid skincare routine. Keep reading for more details on each recommendation!
Dry skin needs exfoliation:
If your skin is super dry, you need to start using humectants (water-loving ingredients that draw moisture into the top layer of the skin) and ceramides (help reinforce your skin's barrier to protect against environmental damage, lock in moisture, and increase hydration). And, get a professional exfoliation! This includes microdermabrasion, enzyme peel, or a chemical peel. Why? Because it's hard to get moisture into the skin when you have a thick layer of dry, dead skin cells blocking the epidermis!
Can't get in for a professional treatment? Go for some at-home exfoliation with the Berry Refined Scrub by MONAT. This is a super gentle exfoliation which is great for sensitive skin. If you need a little more grit at home, I love my Vanity Planet Microdermabrasion Wand.
What you eat matters:
Foods full of fatty acids like omega-3s, help replenish the skin's lipid barrier and protect against moisture loss. Fatty fish, such as salmon, mackerel, and herring, are excellent foods for healthy skin. They're rich sources for those omega-3s and are necessary to help keep skin thick, supple, and moisturized. In fact, an omega-3 fatty acid deficiency can cause dry skin!
Satin is the new silk:
You (hopefully) already know to avoid cotton pillowcases because they'll zap the moisture right out of your skin. Silk pillowcases are my favorite to sleep on, but you can save so much money buying a satin pillowcase instead!
Avoid excessively hot water:
I know, I know… piping how showers and baths are life. But wow can they do some damage to your skin (and hair!). Showers and baths that are too hot can dry out your skin, damage your skin's moisture barrier, and prevent it from locking in moisture.
Humidifiers and mists:
Counter the effects of heaters by using a warm- or cool-mist humidifier. It will help calm and soothe dry, irritated skin. This humidifier from Amazon can be set to warm or cool mist! I also love love love the Aira Ionic Facial Steamer from Vanity Planet!
Also, everyone needs a hydrating mist. All the time always. By your bed. In your purse. In your car. I'm a fan of Herbivore skincare and they have a lovely Rose Hibiscus Hydrating Mist!
Invest in a shower filter:
Some people have "hard water" depending on where they live, which essential means that their water has minerals and oxidizers in it which effect not only your skin, but your hair and scalp, too! It can also more frequently cause frizzy hair, a flaky scalp, and result in more damage and breakage. When you filter out these minerals from the water, you're on your way to healthier skin and hair! The good news is that you can get a great shower filter for pretty darn cheap on Amazon!
Make sure you have a solid skincare routine:
I'm obviously a huge fan of MONAT skincare! Clinically tested and approved by dermatologists and ophthalmologists, MONAT Skincare products are naturally based, vegan, and cruelty-free—so not only can you enjoy confidence in your skin, but also in the knowledge that you're using safe and safely developed products.
Harnessing the natural power of revitalizing botanical oils, nutrient-rich exotic fruits, plant-based stem cells and a rejuvenating exclusive peptide, MONAT offers the most advanced approach to anti-aging skincare available today.
Dry scalp, too?
The scalp is composed of five layers — the outermost layer is skin. Your scalp contains many sebaceous glands, which produce oil, or sebum, that protects hair. Because of the abundance of sebaceous glands, it's important to clean your scalp thoroughly. If oil builds up, you can end up with clogged hair follicles or dandruff.
If you need scalp help, you're in luck! Last week, MONAT launched a brand new duo that is saving us all from those pesky winter scalp flakes that are so very hard to get rid of!
The NEW Scalp Purifying Scrub is an innovative 2-in-1 scrub and shampoo formulated with Apple Cider Vinegar, Pink Clay, and Superfruit AHAs to dissolve dead skin cells, stubborn product buildup, and environmental pollutants. All while balancing moisture leaving your strands cleansed and fresh.
It is ideal for those who: want to instantly purify oily roots while hydrating dry lengths; want to reduce excess oil and restore balance to the scalp; want to help extend the time needed between shampoos.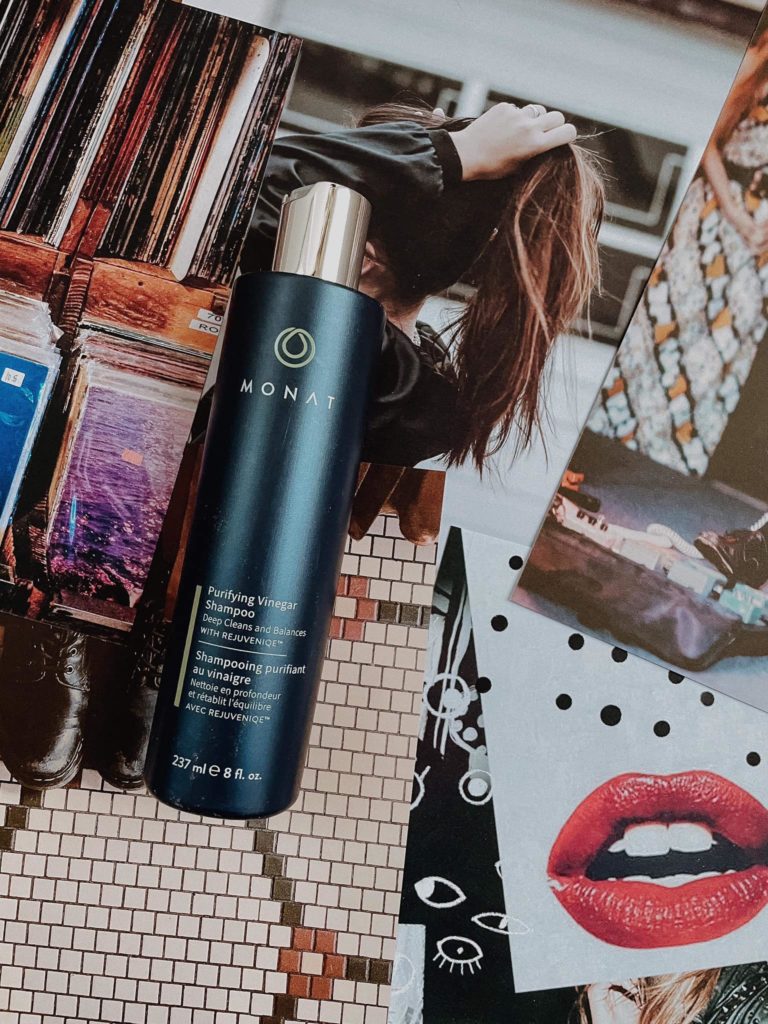 Pro tip: For a deeper cleanse, follow the scrub with Purifying Vinegar Shampoo. This high-performance shampoo is infused with apple cider vinegar and potent AHAs to help reduce excess oil, stubborn product buildup, and environmental pollutants that cause lackluster hair.
Anything else?!
Do you have any additional tips and tricks for combatting winter dryness? I'd love to hear them in the comments below!
XOXO