Is MONAT Curly Girl Method (CGM) approved? Yes and no. I spent the better part of an afternoon and late into the evening, closely researching every MONAT product and their ingredients to find out which ones pass the CGM test!
Want a quick cheat sheet before you read this entire write-up? CLICK HERE!
For starters, the Curly Girl Method is basically about cutting out any stuff that messes with your curls. It was a book developed by hairstylist Lorraine Massey, and is meant to help curlies figure out the best cocktail of products and methods for your exact hair type.
The goals of most curly girls are pretty much the same: to beautify your natural wave, curl, or coil pattern while reducing frizz, dryness, and breakage. But, the CGM doesn't necessarily work for all curlies.
Disclaimer: If your natural hair is wavy, it's going to stay wavy after the CGM. It's just now going to be a healthier, fuller, more defined version of it. This method can help you enhance your natural texture, but it won't change it. "The reason CGM gives some people such drastic results is because it forces you to cut out damaging habits (heat tools, chemical treatments, coloring, brushing, etc.) and focus on making your hair healthy. For a lot of people who have been ~abusing~ their hair for decades, CGM can bring back the natural texture they haven't seen since their pre-teen years" (How to Do the Curly Girl Method for Beginners).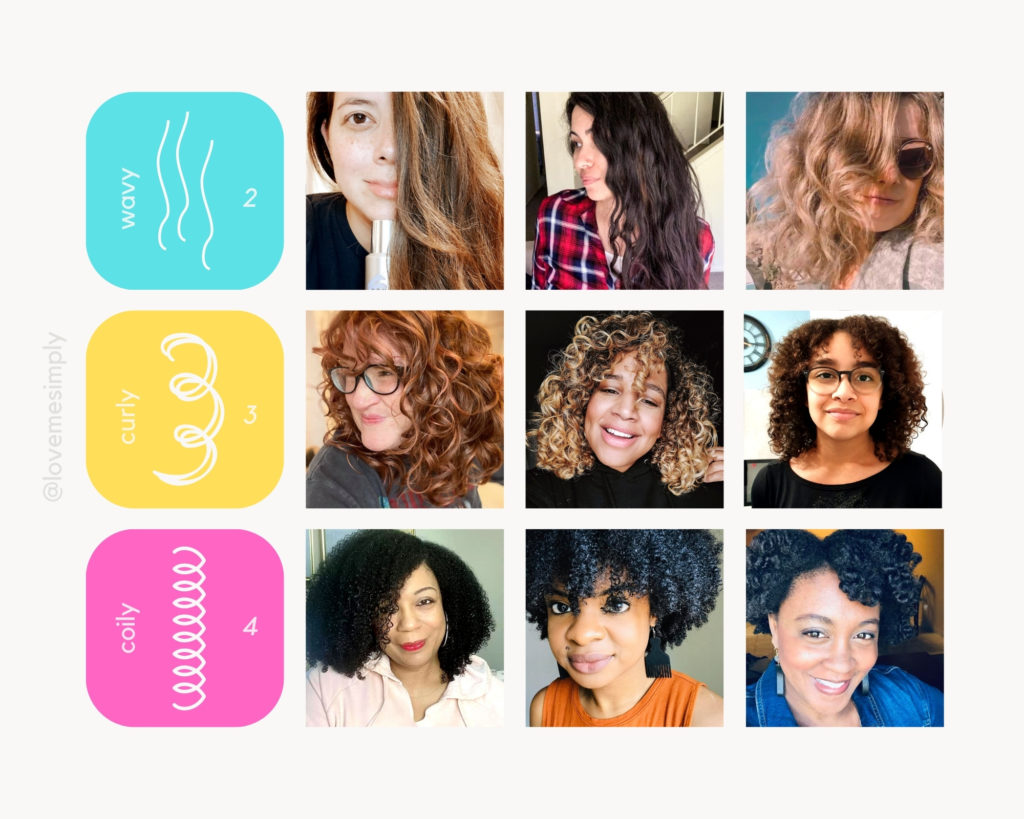 What to avoid with CGM:
traditional shampoos that strip your hair
heat tools (except for the occasional diffuser on low heat)
sulfates (harsh detergents that strip away moisture)
silicones (basically the ingredients in most hair products that make it look shiny and smooth. Most silicones are not water soluble, thus need to be dissolved with sulfates — which aren't allowed)
waxes (which build up on your hair)
combs & brushes (unless it's a wide-toothed comb with your conditioner in the shower — be gentle!)
towel-drying (roughs up the hair cuticle and leads to frizz and tangles)
alcohols (although, not all are created equal)
some will also say to never dye or bleach your hair, either!
What are the steps to the CGM?
Step 0: Final "Reset" Wash
The part I find rather humorous about the CGM, is that step one is to use a sulfate-filled shampoo to strip your hair. OR! You should use a deep cleansing shampoo that is free from sulfates, like MONAT's new Purifying Vinegar Shampoo — a gentle cleanser that purifies without stripping the hair, leaving strands looking and feeling fresh and clean. This high-performance shampoo is infused with apple cider vinegar and potent AHAs to help reduce excess oil, stubborn product buildup, and environmental pollutants that cause lackluster hair.
[Edited to add on 3/21/21]: I use the Purifying Vinegar Shampoo and the Scalp Purifying Scrub once a week now to clarify my curls!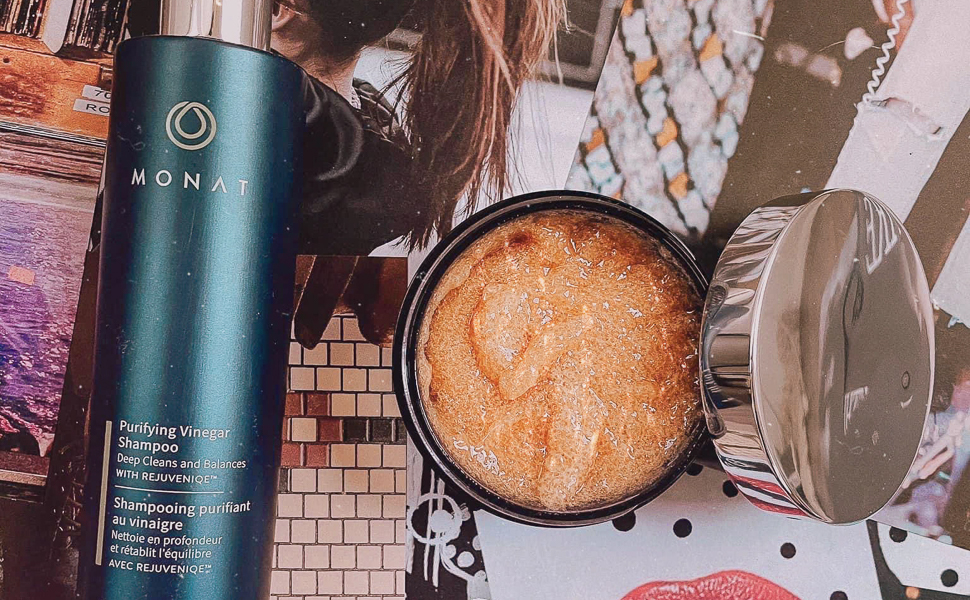 Before using that shampoo, try the MONAT Scalp Purifying Scrub — innovative 2-in-1 scrub and shampoo, formulated with apple cider vinegar, AHAs, sugar, and purifying pink clay, deeply cleanses and purifies while helping rebalance moisture at the scalp.
Step 1: Co-wash or Cleanse
I know a lot of curlies who love the following second best shampoo options for CGM ladies:
But each of those does contain sodium lauroyl methyl isethionate, which some find drying (but most don't!). Those shampoos from the MONAT lineup are on the "probably good for your curls but look into it a little more if you feel like it" list.
This next discovery made me a little sad, because I personally also like the Renew Shampoo. But, it includes amodimethicone which most CGM ladies will run away from. However, fret not! When this ingredient is included alongside trideceth-12 (a nonionic surfactant) and cetrimonium chloride (a cationic surfactant) render the amodimethicone dispersible in water. It still should probably be at the bottom of the list of shampoo choices for your routine, though. The Dry Shampoo is also sadly not CGM approved, because of the harsh alcohol in the ingredients. 🙁
Step 2: Condition
After you let your masque sit for several minutes and then rinse it out, next up is conditioner! Squish a large handful of CGM-approved conditioner through the bottom half of your hair until it is fully saturated and coated and then detangle with your fingers or a large-tooth comb. Rinse out most (but not all) of the conditioner.
Which MONAT conditioners are CGM approved?
And in case you're wondering, the Junior Gentle Conditioner (and Junior Gentle Detangler Spray!) is totally CGM approved, too!
Need a color boost? Each of the three Colour Enhance Conditioners are all CGM approved!
Step 3: Style (the fun part!)
You can apply styling products a hundred different ways, but my favorite method involves layering them from lightest to heaviest and squishing them into your sopping wet hair.
My usual favorite finisher to hold my curls has wax in it, and thus is not CGM approved — the Restyle Instant Sculpting Taffy. The two hairspray options are also a no-go because of the harsh alcohols in it! Same goes for the Dry Texturizing Spray, the Glossy Shine Mist, and the Thickening Spray. *whomp whomp*
Need a UV + color protectant? The Color Locking + Protective Spray is a decent option, but still on the "maybe not?" list for the CGM because of soap-like ingredients which are a no-no for curlies. Same with the Unknot Detangler!
However! As mentioned above, the Junior Gentle Detangler (being updated and re-launched soon!), is completely CGM approved! Use this on your curls, instead!
Step 4: Drying Your Hair
What I personally like to do is "plop" my hair for at least 20-30 minutes to help gently soak up extra water, and then I diffuse (remember, LOW heat!). OR, you can gently cup and scrunch the excess water from your hair with a microfiber towel to help get rid of excess water. Then, if you're air drying, do not touch your hair, or like I said before, diffuse your hair on low. Make sure you are barely handling your curls so you don't disturb the hopefully nice "clumping" you have going on. Once your hair is 100 percent dry, gently scrunch your hair with your hands to get rid of the crunchy gel coating (if you used gel). I like to call it SOTC: scrunch out the crunch!
What now?
Now you experiment with product combinations and styling methods! But I truly do recommend trying a combo + method at least 5 times before moving on to something new! Change up how much product you use, how wet your hair is, etc., to really see if a method or combo of products does or doesn't work for you. Take notes as you go! How awesome is this Curly Girl Diary to track your progress and methods!?
Not gonna lie: The "transition phase" of figuring out new methods and products and healing your hair, isn't always fun. The Curly Girl Method is going to take a lot of trial-and-error and experimenting. It's probably going to make you feel completely incapable at the beginning. And it's probably going to make you want to quit. And you'll probably have a bunch of bad hair days before you finally reveal your perfectly gorgeous and healthy hair and find the best combo of products and styling methods. But still… trust the process!
It's a given that your hair is going to rebel a bit when you start. And then of course it'll try to rebel here and there down the road when you least expect it. Sometimes you'll have to change things up! It's just life. And it's worth it!
Full transparency: I personally had incredible results over the last three years healing my hair with MONAT, and I wasn't even using the strictly Curly Girl Method approved products within the line! I didn't thoroughly research the method until recently. I am now ready to solely use the MONAT products that are CGM and see if I have any further transformations!
Bonus!
My secret weapon to healing my curls, adding shine, controlling frizz, and so much more, is MONAT's liquid gold, their crown jewel, the Rejuveniqe Oil! Check out my post all about it.
It nourishes your scalp and hair with a blend of 13+ natural plant and essential oils rich in omega fatty acids, antioxidants and nutrients highly compatible with both your hair and skin! Read about all of the ways you can use it HERE.
Also! Are haircuts happening a little less frequently these days for you? Then you need MONAT's award-winning Rejuvabeads™ Split End Mender! Because, YES! It's also CGM approved!
Independent testing has demonstrated that Rejuvabeads™ resulted in a 100% repair of split ends 3mm long and under within one minute following application. The product selectively targets and heals split ends and other damaged or stressed areas along the hair shaft, eliminating breakage and frizz, decreasing friction, increasing shine and helping improve color. Hair is left stronger, more flexible, manageable and resilient. The effects last for days (about two to three washes) and are enhanced with repeated use, without creating build-up, oiliness or heaviness. Leaves hair silky smooth, polished and protected from further damage.
MONAT + CGM Cheat Sheet